Memorial for our GSD Friends
Jack
(2001-2012)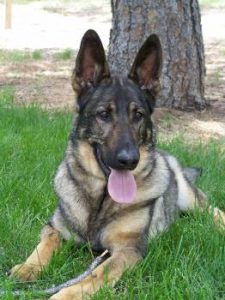 Our Dear Jack,
 You were a gift for us from the very beginning. Thank you for being the best dog we could have ever hoped for. You were sweet, brave, and so loyal; you gave us unconditional love and pure joy! We miss you every day. You are a part of us and we will carry your spirit with us always.
We Love You Forever,
Namaste Olga
March 12, 1997 – September 3, 2010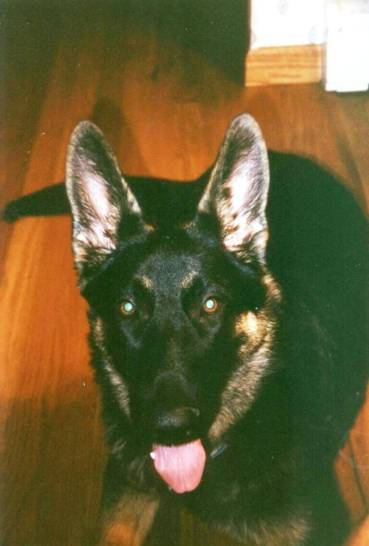 It was the end of March 1997 that I sat on the kitchen floor of the breeder's kitchen surrounded by little bitty German Shepherd puppies.  She picked me.
How do you not love something that loves you so much.  She became my shadow.  Every few hours we took our little trip out the laundry room and down the side driveway.  Every time she would stop in the exact same spot and pee.  And every time she would look up at me waiting for the welcome praise.
Thirteen years later, when she could no longer navigate the stairs, we reverted back to our walks down the side driveway.  When we would get to that spot, she would pee and look up at me waiting for her praise.  She always got a "good girl" for that.
It was often pointed out to me that her eyes never let me get out of her sight.  She slept by my bed and was my constant comfort when I was sick and when I was sad.  When I was gone she stared out the window until I returned.  Didn't matter if I had gone to the grocery store or Mexico, she waited.
This compulsion to have me in her sight became a little ridiculous in the last few months.  I had to be aware of where she was and where I was going.  I couldn't just run down the stairs because she would limp right after me and get stuck half way down.  Or, I would run up the stairs and forget her behind me.  She began to understand that she had to go up the side driveway.  Stairs were not her friend.  One day about a month ago I had shut everything up down by the pool.  Shut the door and headed up the stairs.  She got a little confused and as we looked over the deck to see if she was coming, I saw my big boy Ivan turn around and head back down the driveway where he found her and gave her a gentle tongue lashing to get her attention so she could follow him up that back driveway and into the laundry room.
The last few weeks were hard.  She became unable to use her back legs.  But always a lady, she tried to drag herself out that laundry room door to go potty.  She didn't make it, but she sure tried.  I loved her for that.  She had to spend the last few weeks sleeping in the laundry room.  I know that was hard for her, but I would give her a love before I turned off the lights and first thing in the morning.   Last week, as my boys were digging her grave and the rest of us were enjoying a pool day, I heard her horse bark and I looked over to see her pulling herself down the side driveway to be with us.  One last Sunday.
We were in hospice care now.  I begged narcotics from everyone.  From my Daughter in Law that just had a C-section I got all her Percocet  and my other Daughter in Law had a prescription that she didn't use.  Nate gave up a few of his Hydorcodone.  I knew these would help slow down her diarrhea and let her rest comfortably.  Carefully rationed, I thought I could let her die naturally as all my other dogs have done before her.
Last night I gave her the last of the Percoset.  Her vet was coming this morning.  A sweet little Asian man that gently examined her 13 and a half years ago.  He told me, "play with her mouth so that she will always be able to take medicine not bite. "  I always did.  It was good advice.  This 81 year old man was as gentle as he was 13 and a half years ago as he prepared her front leg.  Duane brought in a muzzle and I turned it away.  I had her complete trust as she buried her head in my lap the Doctor gently slipped the needle into her vein and she was gone.
My heart was throbbing, as I began to carefully wrap my little girl up in a clean white sheet.  Duane helped me place her into an awaiting wheelbarrow and she and I  went down that side driveway one last time.  I stopped the wheelbarrow where she usually did and gave her a pat and told her what a good girl she always had been.
She was the best dog and I am going to miss her very much.
Shelby
          (2002 - 2013)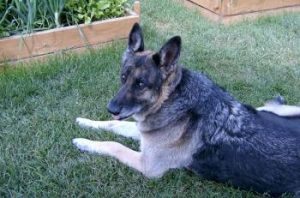 Smart, devoted, playful and loving— Shelby was a well known "airport dog" at Longmont Airport, Longmont, Colorado. She traveled to Phoenix by car with us once. And she really liked hiking in the mountains with me.
Penny Lane
(January 7, 2004 - Dec. 23, 2013)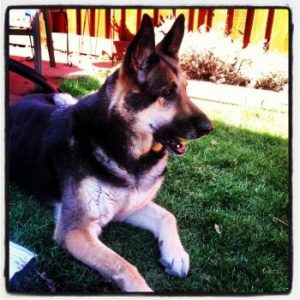 Scooby
(10/01/2001 - 02/14/2014)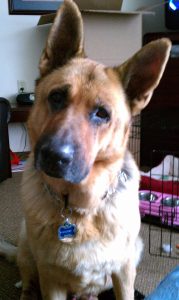 Cooper
(2002-2014)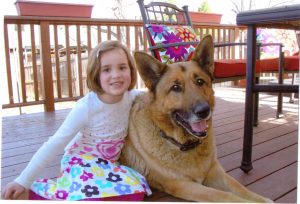 Cooper "the coopenator" was an incredible, lovable and happy dog who only wanted to be around people.
Prince