Geschenk Von Gott German Shepherd Reunions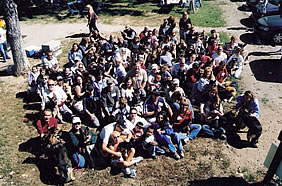 GVGGS Clients,
We often organize a reunion, but we need to hear from you to gauge the interest. Please contact us by email with your thoughts and be sure to udate your personal info ie. name, address, town, zip code and best contact number.  Thanks!
The GVGGS Reunion is an event we look forward to with great enthusiasm.  Our clients and their pets are invited in the fall for a fun filled 1/2 day reunion.  We have speakers on training and health issues unique to the G.S. Breed.
Our circle time is when we all can show off our companion and what they've accomplished in training.  Door prizes are given out and plenty of refreshments for pets and their humans are available.
It's a great time to reunite with litter mates and other GSD enthusiasts - best of all, we get to see our babies again!!!!!!
Check our site for upcoming Reunion Information and details.
 (the above photo was taken at Reunion Fall 2004 - can you find yourself?)