LICENSED BY THE COLORADO DEPARTMENT OF AGRICULTURE UNDER P.A.C.F.A. (PET ANIMAL CARE FACILITIES ACT).  OUR VISIT REVIEWS HAVE BEEN OUTSTANDING WITH 100% COMPLIANCE EVERY YEAR! 
Geschenk Von Gott German Shepherds!
Loving through the years...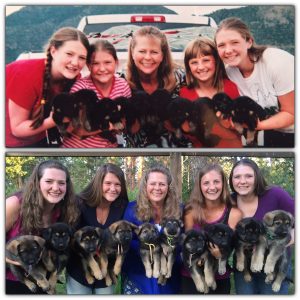 Here at Geschenk Von Gott German Shepherds, we take seriously and joyfully the responsibility in our breeding and placement program to ensure that each and every puppy has been individually and lovingly brought to its highest potential.  We incorporate age and activity appropriate socialization, then we go a step further in assessing each puppy's personality so that we are able to assist in the perfect match of pup and owner compatibility.
Most of our clients enter into our program before the particular litter of interest is born. We welcome involvement from our clients throughout all of our program process and our clients are given the opportunity to interact with the litter as part of our overall socialization program.
Please take time to read through our website.  We have provided a wealth of information about our process and ongoing program for you and your family.  We sincerely hope to hear from you soon!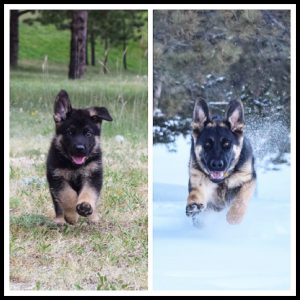 One of our darling pups Joey, with a six month time lapse.
Total Placement Fee $2250
Deposit $250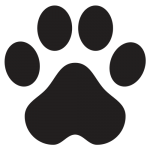 Please fill out a puppy application here.
This does not obligate you to our placement program, however it is the initial step that allows us to get to know you better and understand the hopes and expectations you have for a new GSD puppy.    
Now Taking Deposits of $250 for 2020/2021 Placements
Placement Fee $2250
If you are interested in a pup please submit an application.