Grant
Dear Monette,
Thank you so much for the wonderful addition to our family.  Nadja has now been with us for 1 week and I can't tell you the difference she has made to us and our older dog Jager!  She has brought joy back to all of us after a very difficult year.  It is very apparent how much time and care you and your family put into each puppy.  She is very affectionate and playful which is exactly what we were looking for.  She loves both people and animals and has made several new friends this last week.  Our friend's kids across the street couldn't get enough of her and she was wonderful with them which I know is attributed to all the time and care put into helping from your own children.  She is wonderfully smart and picks up things very fast.  We had our first puppy class yesterday and she already mastered half of the tasks from the lesson.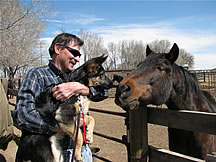 Having been on the receiving end of a German Shepherd from poor breeding and bad denetics its was improtant for us to find a breeder who we could really trust and know that they had the breed's best interest at heart.  We are so impressed with your program and all the knowledge that you passed on to us about the critical stages of puppy development, nutrition, and the proper confirmation of German Shepherds.  We also were impressed by the care you take to place the right puppy with the right family from the applications and personality testing.  You and your breeding program are truly top notch.  We loved working with you and while we hope it is a very long time before we need to look for another dog we definitely know who we will be going to when the time comes.  We sould be glad to speak to any families looking for a reference on your behalf.
Thank you again for our new family member!
Jason & Jennifer Grant
Casavant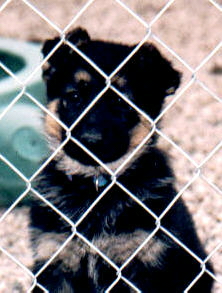 November 5, 1998
To Prospective buyers and all my friends at GVGGS kennels, (including Monette and Hal)
It is with the greatest pleasure that I write this letter of recommendation for Waterton Canyon German Shepherds. Every time that I look at Kaizer or Sasha I am reminded of the care and concern that goes into the breeding, raising and upkeep of their dogs. The Demuth's professionalism and love that is given to every dog at the kennel comes out loud and clear in each dog's composition, personality and drive.
In just the short time that I have known her, I have watched Monette grow in both knowledge and commitment to the raising and placement of her dogs. With years of experience and interest behind her, she is never to proud to search for more information and newer ideas to make her kennels one of the best around. From the dog runs and kennels, which are hygienically efficient to the supporting documentation and medical attention, I have complete confidence in the breeder and the dogs that I have gotten from the WCGS kennels.
Getting a GS dog has always been one of my dreams. And having a well-trained GS has been another. WCGS has made it possible. I started training my first dog, Kaizer, when he was 12 weeks old and from the start I could see a dog that was willing to please and liked to work. With that kind of stock in a dog I knew that I had a partner which would follow me anywhere and do anything. Whether it is climbing slides (and coming down again), wafting across rope bridges, or just sitting quietly outside the post office, Kaizer has been a pleasure to have around. His social skills with other dogs and people make him a favorite of kids up and down the street and adults who see and appreciate how obedient he is. In short, he is the perfect dog for my life and my family.
And now with Sasha, it is a different look to the same book. Her bubbly and bouncy personality shows the same qualities that will maker one of a kind. She catches on to commands and thoughts so quickly that I sometimes wonder who is waiting for whom to get with the program. At 10 weeks old, Sasha is looking forward to the challenge of raising yet another smart and enthusiastic handler.
I cannot recommend Waterton Canyon German Shepherds enough to those who are interested in getting, in my opinion, one of the smartest and loyal dogs ever to be trained, worked and loved.
Sincerely and respectfully submitted,
Richard Casavant
Proud Owner
PS. Buy lots of film if you get one of Monette's dogs because every minute is a Polaroid opportunity or a Kodak moment.
Wendell
June 8, 1999
To Whom It May Concern:
I am please to be able to take this opportunity to express my utmost confidence in Monette Demuth and Waterton Canyon German Shepherds. From the time of our first conversation, I was impressed by Monette's concern for her dogs and for the welfare of the German Shepherd Dog Breed. WCGS has brought together American and German bred lines in a warm and loving household to produce happy and healthy, mentally and physically sound German Shepherd Dogs.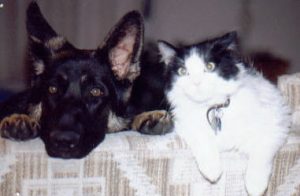 Monette goes the extra mile to ensure that her puppies come from healthy parents from exceptional backgrounds and are raised in an environment that is conducive to developing excellent social skills. As the puppies are born and raised literally right in middle of a family household, they are exposed to a great deal of human interaction very early on. In addition, WCGS personality test puppies in order to match and place them in compatible homes. I believe the combination of Monette's efforts to educate prospective owners and personality test puppies sets new owners up to have a loving and successful relationship with their new puppies.
"Waterton Canyon's First Noel," daughter of "Dakota" and "Grace" is now seven months and is doing wonderfully. "Noelle" is a bright, healthy puppy and is my constant companion. During the school year, the days I spend in school, Noelle spends in puppy daycare. She has excellent social skills with other animals and humans, both adults and children. Her favorite pastimes include playing Frisbee and playing with my kitty, 'Carlyle." Noelle has made training a pleasure as she is always surprising me with her eagerness to learn and her speed in doing so. She Whizzed right through puppy classes as well as additional obedience training. As a team, we will be competing in AKC Obedience Trials beginning in August. This fall wee will also be showing in AKC Conformation Classes. Future training plans also include agility and herding, as well as participating in the S.H.A.R.E. program which takes animals into schools and nursing homes. Even though Noelle is highly motivated to work and learn, she never ceases to amaze me how she is just as content to just hand out with her human.
As a veterinary student and soon to be vetrinarian, finding a reliable breeder with a large interest in his/her dogs was of great importance to me in obtaining a new puppy. I am not aware of another breeder that could compare to WCGS. I could not be happier with the breeder I chose and the puppy with which I was matched. Waterton Canyon German Shepherds has my sincere and heartfelt recommendation. Please contact me if I can be any assistance.
Sincerely,
Michelle D. Wendell
AKA "Noelle's Human"
Branham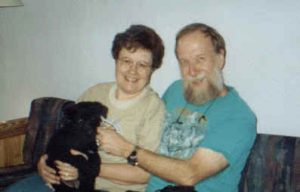 Monette-
Just a small "thank you" for all your diligence, love, planning, and integrity that went into these dogs. You are doing an Outstanding job! As a breeder you're preparing new families the best I've ever seen - & I've looked @ a lot of kennels. Everyone should be doing this - both for the sake of the new owners but also for the sake of the pup/dog. They do not have a voice in their destiny so it's up to us to make that as fulfilling to these dogs as possible.
Also, thanks so much for letting Lee & I watch the temperament testing. I've been wanting to do this for years.
Thanks again & keep in touch. You're 1 in a million & I appreciate you so much.
Nancy Branham
Omaha NE
Shumaker
When we lost our last German Shepherd, Madison, we were unsure we could find another Shepherd to fill his huge shoes.  We interviewed many breeders in the Denver are and were not satisfied at all, until we met Monette.  From the first time we spoke on the phone, I could tell that Monette knew how to breed and raise German Shepherds the right way.  I knew immediately that I could trust her knowledge and truthfulness.  We talked for over 1 hour and she was more than happy to answer all of my many questions, all with very knowledgeable, honest answers.  Over the course of the next few months we spoke with her several times, took her advice on books to read, and participated in several days worth of socialization exercises with the new litter of puppies from which ours would come.  What we got was a beautiful, well behaved male German Shepherd which we named Kirby.  Kirby is perfectly socialized, and well trained and cared for by well informed owners (us).  Monette not only prepared the dog for us, she also prepared us for the dog with her orientation class and her constant willingness to answer our questions both before and after we received Kirby.
Nick & Jayne Shumaker
Langfield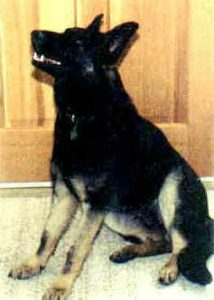 Dear Monette,
There are few words that can express how happy we are (and have been) with our newest family member Sasha.  She has proven to be all that you promised and even more.  Although I have to admit -- some of the processes you described on the first visit sounded quite odd.  The idea of using personality tests to match owners to pets not only sounded innovative it also sounded downright crazy.  Additionally, if you recall, I was disappointed at the selection (the puppy) when we ended up getting our last choice.  But the males assessments did not match our requirements.  However, Sasha's evaluation matched our family and home environment perfectly.  Looking back in retrospect, having any doubt about any of the processes only showed my ignorance in selecting a top quality German Shepherd.
Sasha is highly intelligent and obedient.  She is eager to learn and play but is never overwhelming.  She is wonderful with our three children.  She was all black with only silver paws when we picked her up but now at about seven months she has picked up some tan on her cheeks and behind the ears.  She is beautiful!
Her hips came back great and the vet says she is in excellent health.  A family friend stopped by just last week; he has owned German Shepherds for years and years.  Immediately he remarked on her high rear and remarkable posture and markings.  He told me that Sasha was something to be very proud of, he said that she was the finest looking Shepherd hat he had seen in many years.  This is a tribute to the fine work that you are doing at Waterton Canyon.  You and your dogs receive our highest recommendation.
Sincerly,
Michael Langfield
And Family
Colebank
Hi Monette!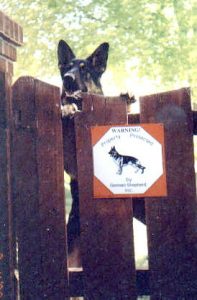 Here's a picture of Terra. She's really the best dog I know! Her obedience is starting to become very sharp, and her protection training is at a higher level than most of the two ear olds in her class!
Thank you for talking me into getting a female, she likes to play a lot: but she's much more intense than most males! She also is so gentle with the baby and very protective of her!
The baby is doing very well, as you can see.
Hope to see you soon!
Dave
Hugan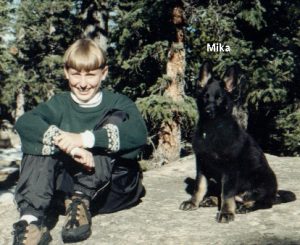 Dear Monette,
Here are a couple of six-month photos of Mika. He is sixty-five pounds. Mika is our pride and joy. We have had several dogs over the years. Mika is, by far, the best we've ever had.
He is loving, sensitive and extremely intelligent. He has graduated from puppy kindergarten and is now in beginner dog obedience. Mika is thriving both in work and in play. He loves to play fetch, hide-and-seek and frisbee. Daily, we go to the Cherry Creek Reservoir dog are where he is allowed to run off-leash and play with all of his friends. They swim and play fetch in the water.
Mika will ot allow our two smaller dogs to walk ahead of him. We are working on this. He enjoys sniffing and nudging the cats. We tell him to "be gentle" and he seems to understand and has never harmed them.
Yesterday, while playing in the water with another dog, several horses trotted by. Both Mika and the other dog started running to the horses. I said, "Mika no!" He stopped immediately. He came the first time I said, "Mika Come." The other dog continued to pursue the horses - a dangerous endeavor.
A well-trained dog is not only a safe dog, but he brings such pleasure to those around him. Thank you for Mika. We will be ready for a playmate for him later this fall!!!
Eternally Grateful,
Brian, Kathy & Aaron Hugen
Parsons
Monette: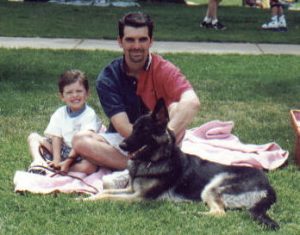 This is a short note to let you know how much we love and cherish Dascha. She has truly become a part of our family. As you know we have two small children whom she is absolutely wonder with. She has been a perfect match for our home and we think we can credit some of that to the personality testing you do on the dogs before assigning them homes. We are truly grateful for her. We hope that in the future we can purchase another German Shepherd from you.
Please let me know if you need a reference as I would be happy to do so. I would also be willing to let people see her and how wonderful she is with little ones.
Thanks again for everything and hope to talk with you soon.
Christine Parson and the rest of the crew.
Freddy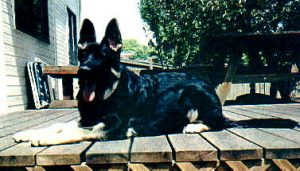 In February 2000, we purchased a male GSD (named Trapper) from Waterton Canyon German Shepherds that was from a litter produced by Dakota and Grace. This is the fourth male GSD we have owned in the last 30 years and our previous dogs have been wonderful long-lived family members and competitors in various working disciplines. We therfore were quite selective as to quality of dog and breeder. I was looking for a male dog having temperament and physical soundness to be a reliable family member and compete in obedience, agility and possibly tracking and herding. At the time of our purchase, we were looking at dogs from 4 litters.
We chose Waterton Canyon GSD for several reasons. Suitable breeding stock having good health and temperament was used, pups were raised in a healthy environment with proper veterinary care, pups were well socialized with people prior to sale, and potential owners were allowed to view and rank pups to their personal criteria and this was cross-checked with quality independent puppy testing to match potential owners with puppies.. Furthermore, potential owners were given an appropriate and informative training session on the care and handling of the breed to make sure the GSD was likely the right dog for them. Sale contracts were straight-forward and well handled. Furthermore, WCGSD provided a quality rental crate to continue crate-training initiated with the litter and a supply of quality dog food to insure proper nutritional transition into a new home.
At 4-months of age, Trapper is a delight. He is currently a healthy 40 pound bundle of energy, a tail-wagging clown when seeking out new people in many new situations, easy to train, focused, quick to learn, agile, and shows no temperament or structural weakness. He has done well in puppy training classes where he has gotten along well with other dogs. I am confident that a year now, I will have structurally sound and reliable working dog.
I highly recommend you consider WCGSD in your search for new GSD puppy -- you will find Monette and WCGSD helpful in all aspects of purchasing a GSD.
Dave and Halli Freddy
Timmerman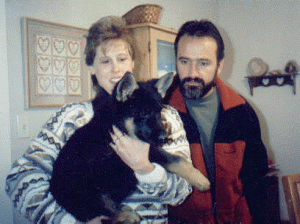 Dear Monette:
Pascha is a delight! She is exactly what we were looking for in temperament, drive and intelligence in a German Shepherd dog. She is a loving family companion as well as a faithful friend to Boris, our 7 year old German Shepherd. Pascha is confident and naturally protective, however, she possesses a gentle disposition with both adults and children. We recently completed obedience training with Dick, and Pascha performed extremely well. She makes excellent eye contact and is eager to learn. Her temperament testing was right on target!
Once Pascha had all of her puppy vaccinations, we started taking her everywhere and exposing her to as many new situations as possible. I believe this type of socialization is essential for a German Shepherd puppy. since the nearest towns to our home are Black Hawk and Central City, we took her there to experience people, traffic, construction, and the ever-present casino sounds wafting out onto the sidewalk. We got strange looks from the gamblers as we walked up and down the streets, but the socialization training paid off more than any jackpot could! (Coincidentally, we met a couple outside the Central City Opera who own a German Shepherd trained by Dick.)
Pascha is in excellent health. She weighs approximately 58 pounds and is stout and strong, but not overweight. She hasn't been X-rayed yet, but she has shown no outward signs of any problems.
John and I couldn't be more pleased with our decision to acquire Pascha from your kennel. We had visited numerous other breeders before coming to Waterton Canyon German Shepherds, and your operation by far was the most impressive. Your knowledge of the breed, attention to the puppies' health and early development, and endeavors to place each puppy into a home best suited for it are outstanding. john and I would welcome any inquiries from prospective owners of your German Shepherds.
Sincerely, Joan
Ruder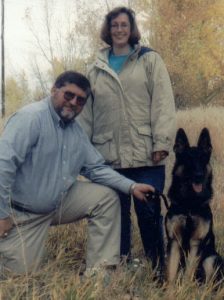 Dear Monette,
This is just a quick note to discuss the complete satisfaction we have with Spencer.
You should be complimented for the socialization that your puppies experience prior to purchase.  Spencer essentially was housebroken, and has been extremely good with both my young boys.  We brought him into a home with an older cat, and there was no aggression ever shown toward the cat.
Spencer is the only German Shepherd I have owned who has not gone through a gangly, unattractive stage.  He has always been proportionally and handsome.  We have received many compliments on his appearance.  He is now seven months, and although a long way from being fully developed, his coordination and physical appearance are both outstanding.
He is extremely intelligent and very much a "people dog."  He enjoys traveling with us, and doesn't seem to mind waiting in the car while we're at dinner or shopping, and we think he would rather come with us and wait than remain at home alone.  his acceptance of variety in his environment is excellent.  He has stayed in several motels and traveled extensively, without any difficulty in unusual circumstances that sometimes occur when traveling
Spencer is loving and affectionate, has learned a few commands, and is eager to please.  He has an extremely high drive; however, he is very calm around  loud noises, people, and children.  He is very friendly and outgoing, but still has the German Shepherd savvy to notify us of a questionable situation.  The intelligence he has demonstrated at this young age is very surprising to me.
I would be pleased to discuss in depth my opinion of your kennel, the accuracy of the personality evaluations you perform on your puppies, and most importantly, the quality of the puppies themselves, with anyone who would care to call and speak with me.
Doug Ruder
Lockhart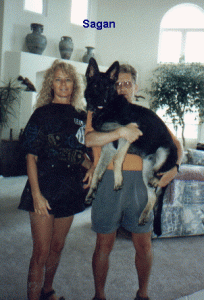 Hi there, Sorry we forgot to send in our year old pic's. Sagan is by far the best tempered dog we have ever owned including a G.S. we had 30 years ago, who we said was "Our first son." She is magnificent in ever degree of the word and continues to get compliments each and every time we take her any place!!! We still are the proud parents of the greatest dog in the world, and if you need a reference, just put your lips together and whistle.
Love, Sagan, John & Kathy
Reinsma
Dear Monette:
We just wanted to thank you for our dog, Hunter. We couldn't be more pleased with him. He is a joy to have in our home and we have adjusted well to him ( I hope). When Jeff & I were first talking about a German Shepherd, our younger son, Jack, was a little afraid of being around big dogs. Now he just goes up to the owner and asks if he can pet their dog. Last weekend he went up to see another Shepherd and talked to the owner for about 10 minutes and found out that the female was a search and rescue dog! Our older son, Jim, is in to teaching Hunter many tricks, including "dancing."
Hunter loves to play in the field behind our house, he doesn't retrieve a lot, but we keep practicing. We don practice his tracking quite a bit, and that means tracking all 4 of us at different times and areas behind the house. He gets quite upset and howls a lot when he gets left behind. We are now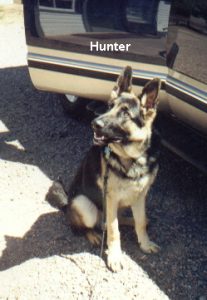 taking him to soccer games with us and he behaves very well. He doesn't bark at other dogs or people. He just finds himself a spot and sits or lays down to watch the game. He does get car sick, but the vet recommended Dramamine 1 hour before departure and that has worked wonderfully.
There are a couple other Shepherds in the Valley, but we all like Hunter's darker coloring than the other dogs we see. Hunter is also taller and longer than the other Shepherds, which includes a couple males.
Thank you again for our "baby", and I hope he loves his humans as much as we love him!
Sincerely,
Jeff, Rilla, Jim & Jack Reinsma
Casis
Monette,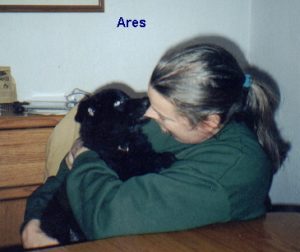 Hello! How are you? We are doing great. Ares is a wonderful addition to our family. He is loving. He and Jasmine, our Cattle Dog, are inseparable.  We are impressed with how intelligent and quick to learn he is. And everywhere we go people comment on how good he looks.
I have enclosed photos from around 6 months. I hope they convey how happy and healthy he is. Just today he went for his first swim! (He used to stay on shore and watch Jasmine.)
I am also enclosing his certificate of graduation from puppy kindergarten. We are currently enrolled in Obedience I at another school. I prefer the school we are at now - I took Jasmine there as well. If you have anyone in the Ft. Collins area in the future you can tell them about Dr. Gail Clark at It's A Dogs World - Canine Academy. She is fabulous. Ares graduates in 2 weeks + we will send out a copy of his certificate.
I sent in his blue slip + he is officially named Prince Ares Benjamin Bandit. It turns out my grandmother had an all black German Shepherd as a childe whose name was Prince - so we added it on. Also we are spelling Ares A-R-E-S after the Greek God, not A-R-I-E-s like the Zodiac sign.
He has been neutered + I enclosed that form. We will do his hip X-Rays closer to 1 year.
I guess that's all for now - thanks for everything.
Love, Gwen
Costa
Dear Monette,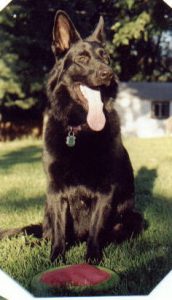 I wanted to thank you for allowing Astrid to be a part of our lives. She immediately was accepted by Thor, our older dog, and touched our hearts.
Training her has been a breeze. She's eager to learn and her disposition is always happy. I think the only thing she dislikes is being alone. Whatever room we are in Astrid is close by!
She loves to play and drive our cat insane! However, I think the cat provokes her a lot of the time!
As you know, Thor passed only a short week ago to an untimely mishap. It has been very difficult for all of us but I can't help feeling that Astrid is effected the most because she spent 24/7 with him since we welcomed her into our home.
It seems that she is adjusting well to the long days alone. Nothing has been destroyed by boredom, but she is extremely excited to see us when we arrive home. Fortunately our neighbors have a 4 month old puppy and bring Astrid over during the day to play with their puppy.
She has helped Stefan & I tremendously with the loss of Thor. She helps to fill the void we all feel. Once again, thank you for all of the joy she has provided us. I hope the pictures do her justice. We feel she is just beautiful.
Fondly, Kiersten & Stefan
Ferranti
Dear Aunt Monette,
Mom tells me that you are very anxious to see photos of me and to hear all about me... so, hear goes.
First of all I'm not real thrilled with these photos, I think mom is going to have to practice... or get a profesional ... I am much more beautiful than these pictures, but, oh well, guess we'll have to use them for now. Mom promises to send more ( and better ones) soon.
As you can see, I live in a most beautiful place. Right in the middle of the Roosevelt National Forest... Away from the big city noise, busy streets and best of all, the dog catcher!!!
I spend most of my days at home with mom and playing outside. I love to play with sticks and carry them all over the yard. Lately I have been chasing and catching the mice and shrews around the yard. so they don't come in the house and eat all our food!!! I don't eat them tho, mom is very infatic about that, she says they could make me sick... don't want that!!! I explore all the woods and fields around our house, but I never go too far away so that mom can't find me or I can't keep an eye on home.....I'm becoming a fine "watch puppy". Actually, if I can "see it then it belongs to me".... Mom takes me with her where ever she goes, so the trunk is mine too...I love going for rides, especially when we go to visit my friends.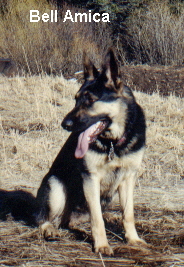 Some of my favorite times at home are mornings when we are all here I get to jump on the bed with mom and dad, sometimes we just all snuggle together, sometimes I bring one of my toys to bed and dad plays with it with me while mom tries to sleep?????? I love to wake mom and dad up.. and lick their faces, they get so excited when I do that????
Dad roughhouses with me a lot more than mom does, but that's because he's bigger and stronger. Mom's into talking and playing more quietly more "lady like." Both mom and dad insist that I learn my manners. That's really mom's job to teach them to me... and how to behave like a "proper young lady". I'm very smart and fast learning.
Sometimes mom's work takes her away from home for many weeks (she works for the red cross, you know, you know). Dad and I don't much like that, cause we both miss her very much and I have to stay home while dad is at work, but we understand that her work is very important for people who have been in a disaster, many times she helps lost or abandoned pets, and we are proud of her. Well, enough about mom being gone...
Here at home I have a big sister, her name is "Nelle Juan." She is a short squat "Eskimo Cat" (not to be confused with Fat!!) And was born in Bethel, Alaska. I love to play with her, share my toys (especially the squeaky ones) and snuggle with her. I know she loves me... sometimes she even lets me sleep next to her!!!!!!!! Our big brother "Shadow Kitty" went away on Thanksgiving week-end. I was sad and didn't understand why he went away, but mom told me that it was "his time" to cross the "Rainbow Bridge" and that we would all see him again,...... when it was our turn.
Guess I should close now, it's getting pretty late and I'm kind of tired... anyway, I have to warm up the bed!!!
I hope to see you again someday, mom said maybe in October. That would be nice. Please tell my "doggie" mom and dad that I am very well and happy. I think about them sometimes remember how nice it was to cuddle with mom and my other brothers and sisters. Please give them a kiss from me. Thank you
Mom and Dad send very best regards to you. I send licks and loves.
Bye for now,
Bell'Amica
Hartridge
Hi Mom & Dad,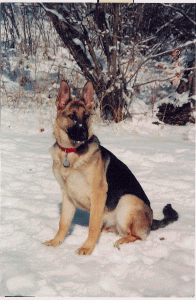 Sorry that the pictures of me are late but the first set of pictures that were taken of me did not come out very good, my owner is not a very good photographer. As you will see these pictures do not serve me justice as to how pretty I really am! (Ha! Ha!) Also you will find the information pertaining to me being spayed on 12/17/99 at Deer Creek Animal Hospital.
Enclosed you will find a few pictures that were taken of me a few days ago at the park where I get to go for walks with my brother. My brother and me have became very good friends, he seems to think that he is the Alpha most of the time but I tend to remind him every once in awhile that the female is the true Alpha of the housel=hold. Also as I have gotten older it is getting harder if it is dark where we are at for my owner to tell us apart as our marking and color have became similar.
I have become a real sweetheart who loves going for walks and hikes with my brother and owner. I am very good at listening to my owner's commands, he works constantly with Tskino and me. I have checked into New Attitudes dog training but the trainer there was unable to fit me into his schedule until later into the year so I will be working with a different trainer as soon as my brother teaches me a few more commands.
All in all I am a very spoiled and loved dog who has a lot of fun with my owner and especially my big brother that is very protective of me whenever we are out. He tends to pick on me a lot but I can tell that he loves me very much, as does my owner.
Love, ANJA
Black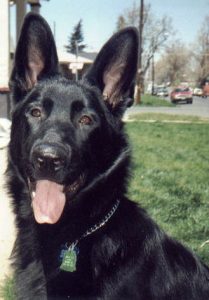 Dear Monette,
Jet is the most wonderful dog in the world. He is still as mellow as the day that I took hijm from your house and can play with the biggest or smallest dogs and puppies without any problems. All of the children in my neighborhood love to play with him out front unsupervised for minutes at the time.
We do everything together. He goes with me on most of my errands and has never once misbehaved in the cat. He sits quietly in the passenger seat and watches people or sleeps.
At six months, he is already fully house-trained and has the run of the place while I'm gone. On nice days, I usually opt to leave him outside so he can get some sun and play with sticks.
Tanner, the Yellow Lab, is still his best friend and the way they communicate and play together is indescribable. At exactly six months old, he weighed 69 pounds. He has a case of Pano in his left front elbow. Whenever it flares up, we rest more than usual and I give him asprin.
I can walk him without a leash for hours at a time in rural areas. I have recently taught him to swim and he'll retrieve a ball from a lake at 50 yards.
He doesn't bark often but when he does, it is superb" low, loud and sharp.
It's list of priorities: 1-Tanner, 2-squeaky ball, 3-snow, 4-Kirsi (my girlfriend), 5-knuckle bone (yes, he still has it). I fall in somewhere after sticks and pig ears.
Thank you for my best friend,
Jeff Black