GVGGS Dog Training Recommendations
My name is Monette Demuth of Geschenk Von Gott German Shepherds (formerly Waterton Canyon German Shepherds) and I have had a professional relationship with Dave Coop, The Canine College, through our Pup Placement Program for nearly a decade.
Given the unique and personal touch of GVGGS, our program excels in educating our families in several key areas such as health/nutrition, correct socialization, temperament testing and essential family bonding/training.  Years ago when I formulated my data base, seeking exceptional trainers in the Denver area of which to refer my clients, I interviewed Dave Coop.  I became immediately aware that his knowledge was leagues above the sea of trendy and irrelevant popular training techniques.  He demonstrated his in depth knowledge of the physiology and mind/development of the dog, socialization key factors and overall Dog/Master bonding essentials in training.  Over the years I have narrowed my recommendations to only two trainers in the Denver Metro area, Dave being one of them. I believe he has offered superlative services to over 100 of my clients without one single complaint, rather exuberant praise from all of my families.  Often Dave will come speak at our Puppy Orientation Classes (a 3 hour course we require anyone getting one of our pups to take prior to placement). We always have a high percentage of clients that as a result, choose to utilize Dave's expertise through his services at The Canine College.  Dave has also participated in training demonstrations at our Annual Puppy/Dog Reunions at Chatfield State Park.  Dave is truly in a league of his own and we proudly and with full confidence give him a 5 star rating in all areas of Canine training and interaction.  Count yourself blessed indeed if you are fortunate to secure his services.
Sincerely,
Monette Demuth
Geschenk Von Gott German Shepherds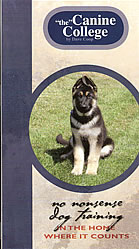 Training Importance
At GVGGS we believe that a happy canine is one who has been trained well by their human.
Training your GSD is a great way to ensure this very intelligent canine friend will meet their full potential and the bond you share will only be strengthened.